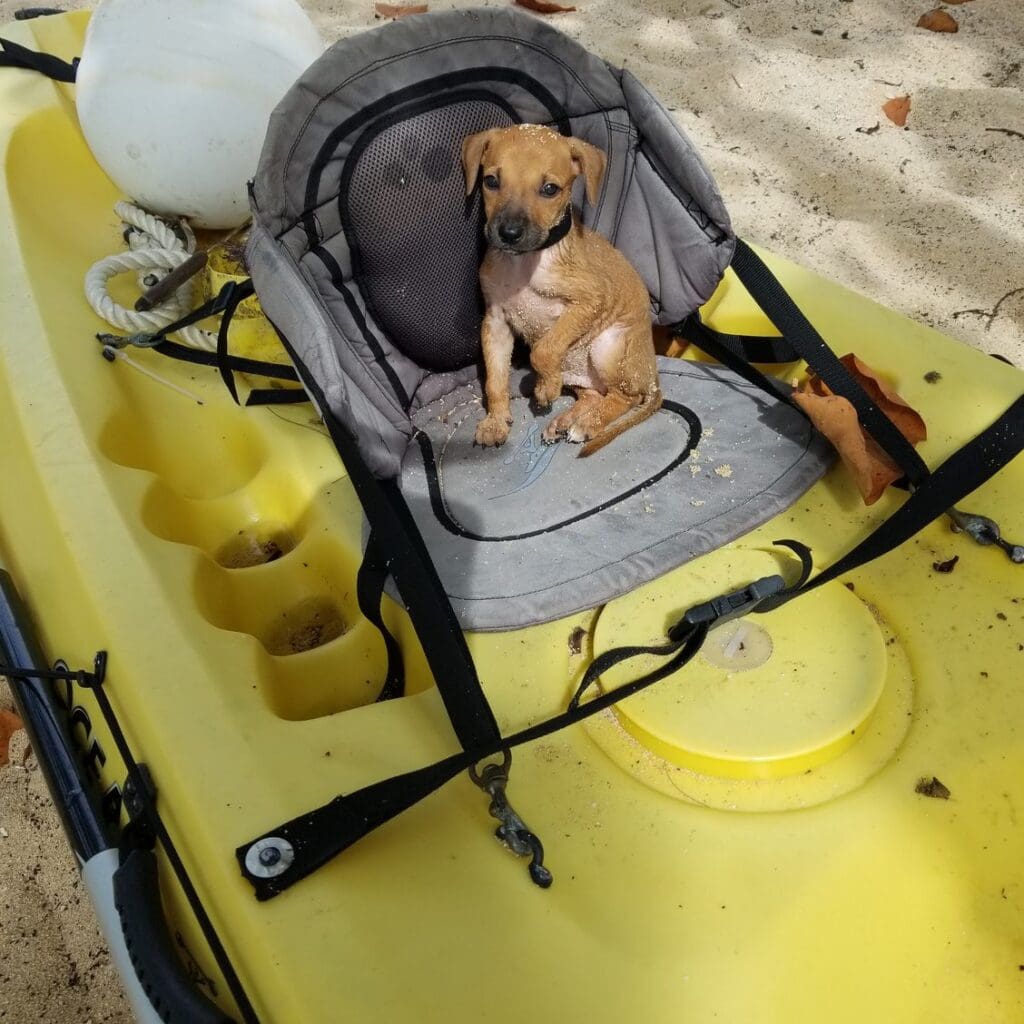 Here's Max on his first day on the property.
After Sam's passing in May related to a debilitating hip dysplasia that is common for Rottweilers, we decided that Stella needed a companion. After a few calls in our network, Max arrived. Since he was limping, we almost didn't take him, but we couldn't pass up those intelligent eyes. It was difficult leaving him after just having him for four days, but when we arrived back on the property in July, it was like we had never left. But, maybe that is how he treats everybody. The hard part is the inconsistency in training. Luckily, he responds to the staff, afterall, he is one of the team. But he is still a puppy and needs all the attention that he can get. So far, he has been a hit with the kids who have stayed on the property, and even the adults as seen from the photographs they have shared on Instagram.
Undoing all of George's hard work keeping the beach raked up.
Life Goes On
We have been quite fortunate to have assembled a very cohesive and caring staff. Anchored by the long standing loyalty and service of Charmer and Barry, our security guards, Chenille, Angela, Shenicka and George have already proven that they are sensitive the needs of the guests and the property itself. In addition to keeping the lawns and beaches clean, George has proven to have a green thumb, especially herbs.
It's one thing to have basil and another to know what to do with it. Chenille is a hotel trained cook and can make pesto in a heart beat but you may need to bring your own pine nuts. Olive oil and Parmesan cheese are available at the local grocery stores for a detour into non-island cooking. She knows how to use our food processer and all of the accoutrements in the kitchen including a Japanese grinding bowl for homemade salad dressing. She can also bake cakes and cookies, especially sweet potato pudding. She is a fast learner and after just one try she made a Hollandaise sauce for a variation of our signature dish – poached eggs on callaloo with bammy on the side.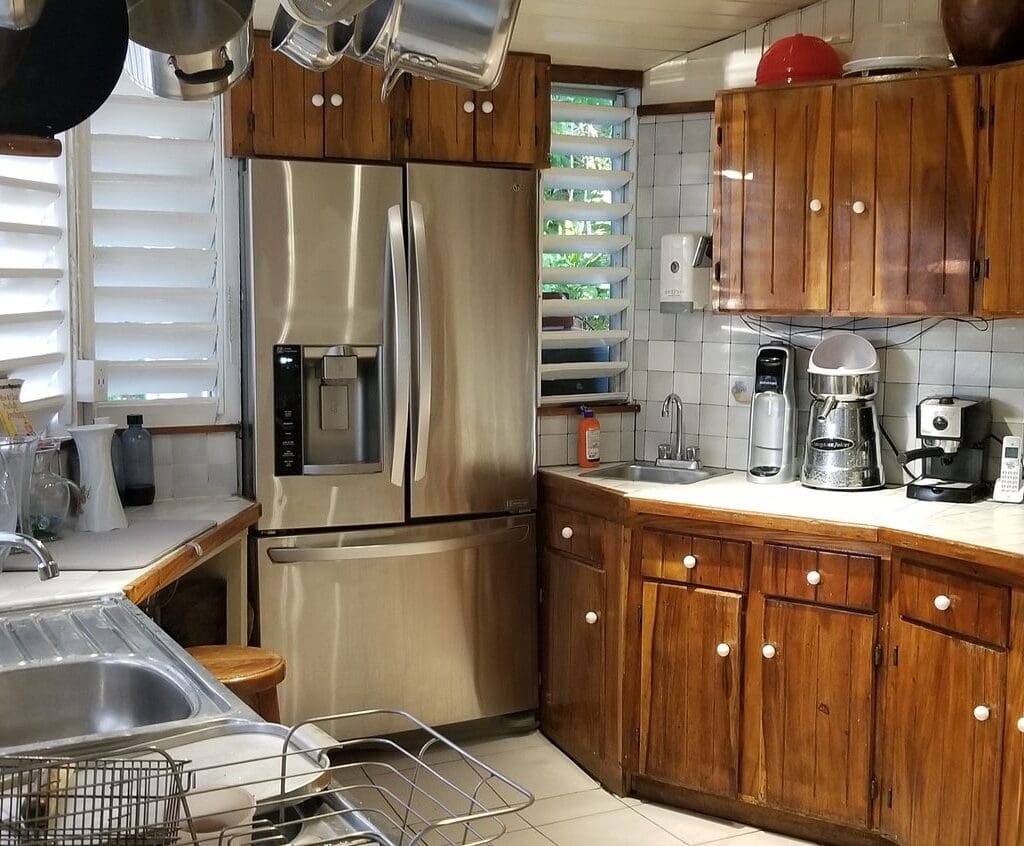 A Restorative Place
Sometimes when chilling out means slowing down, there is no better place than in a hammock. Afterall, it was an Arawak Indian word, along with tobacco, canoe and bar-b-que.
Photo Op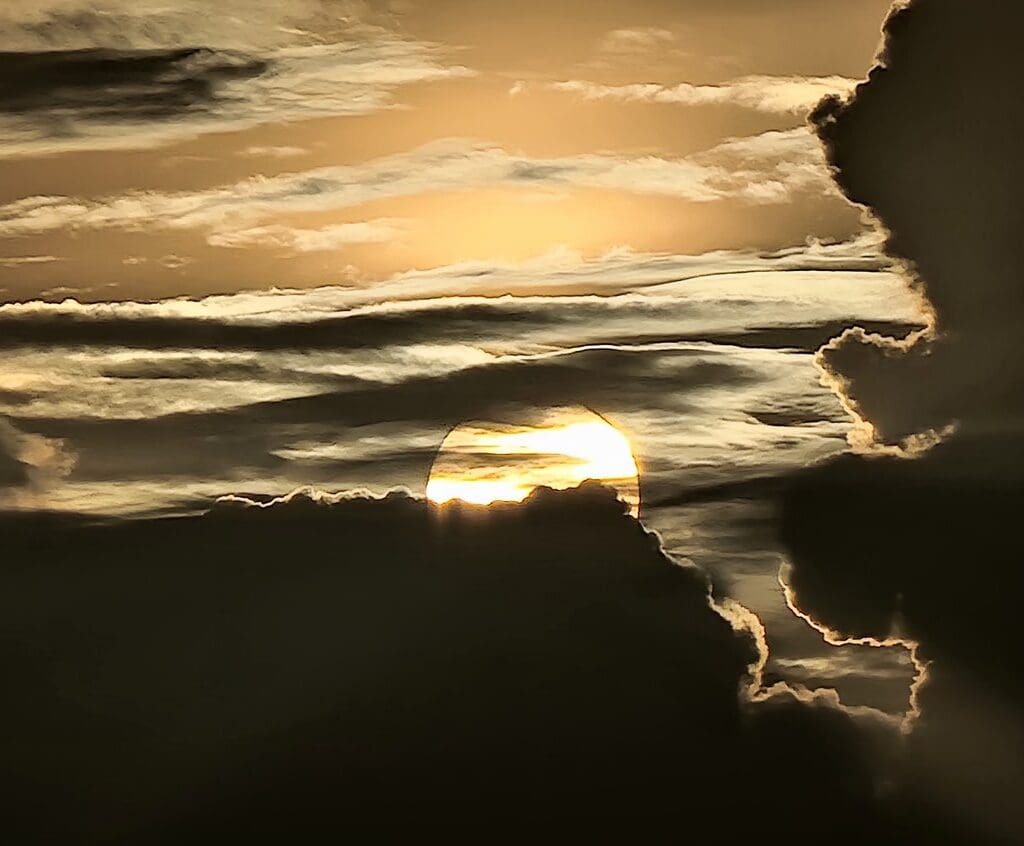 Sunsets are spectacular from April through October when the sun heads north, or rather the earth is tilted downwards in its sojourn around the sun.One of our guests captured this dramatic photo that deserves to be framed. Thank you Chris.
Never too young or too old.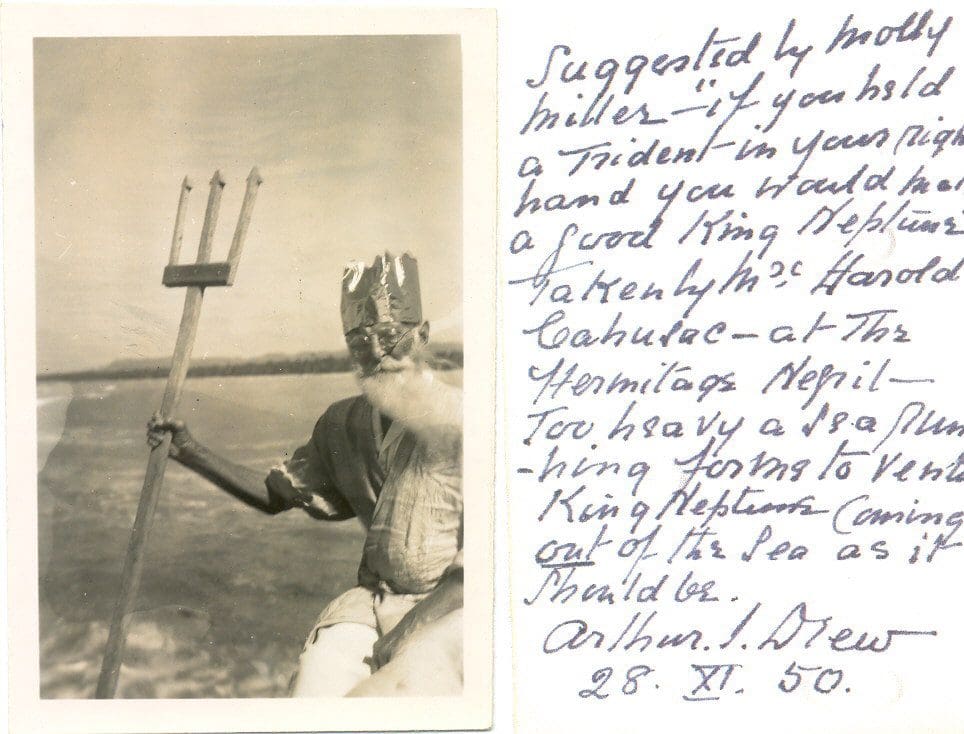 From the advanced age of Dr. Arthur Drew, a former owner of the place from 1926-56, who died peacefully in his sleep at the age of 93 and is buried on the property . . .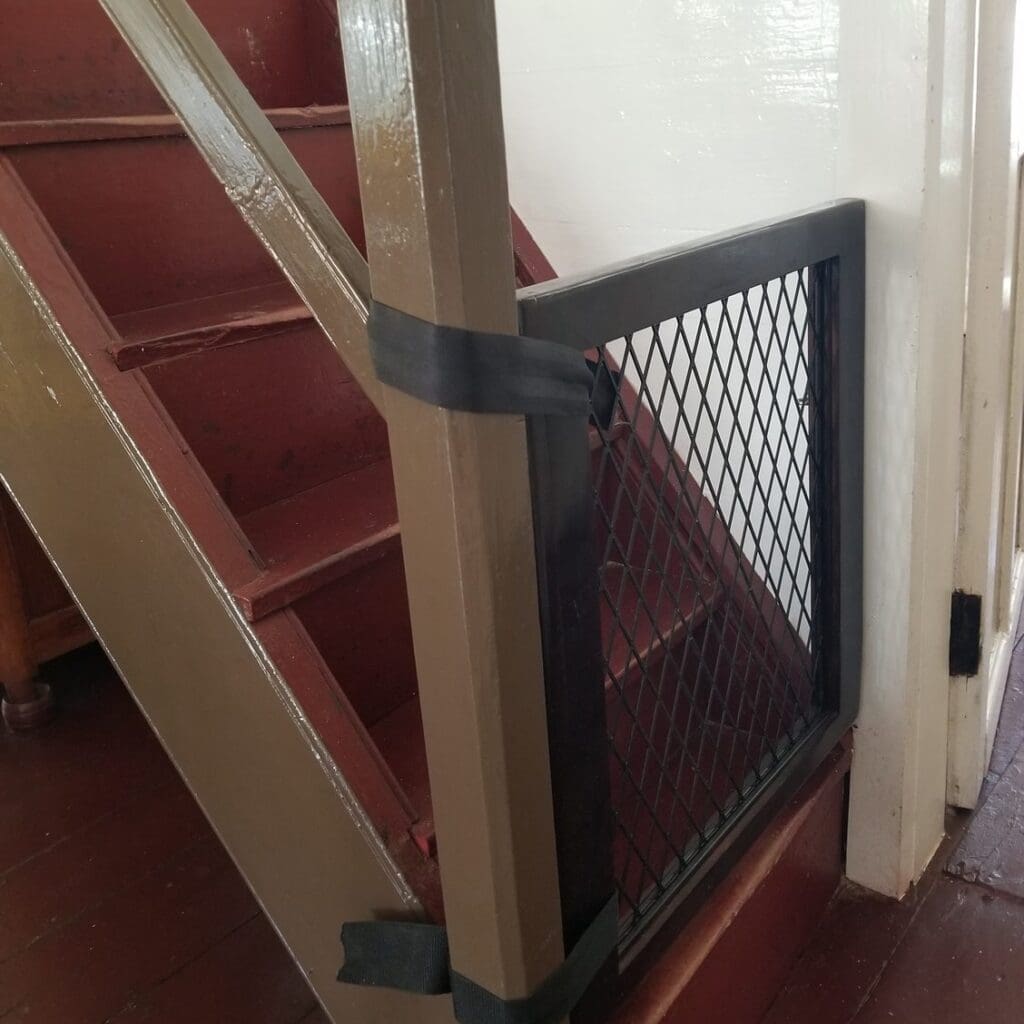 to the youngest of toddlers who have wondered about where the staircase leads, Llantrissant is a family place.
A Work in Progress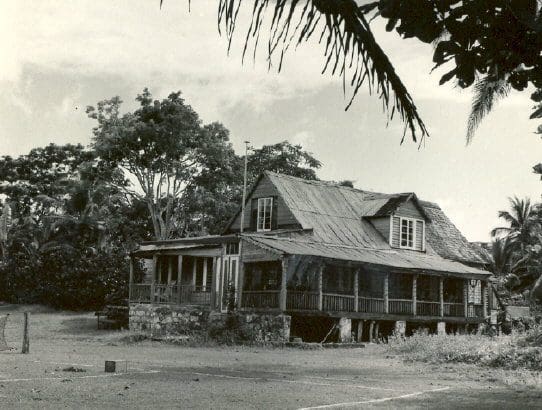 Story has it that when Leyson Ewen, the owner of the Casa Blanca Hotel in Montego Bay, bought the property in the late 1950s that he wanted to tear the house down because of its general disrepair and lack of modern amenities such as running water and electricity.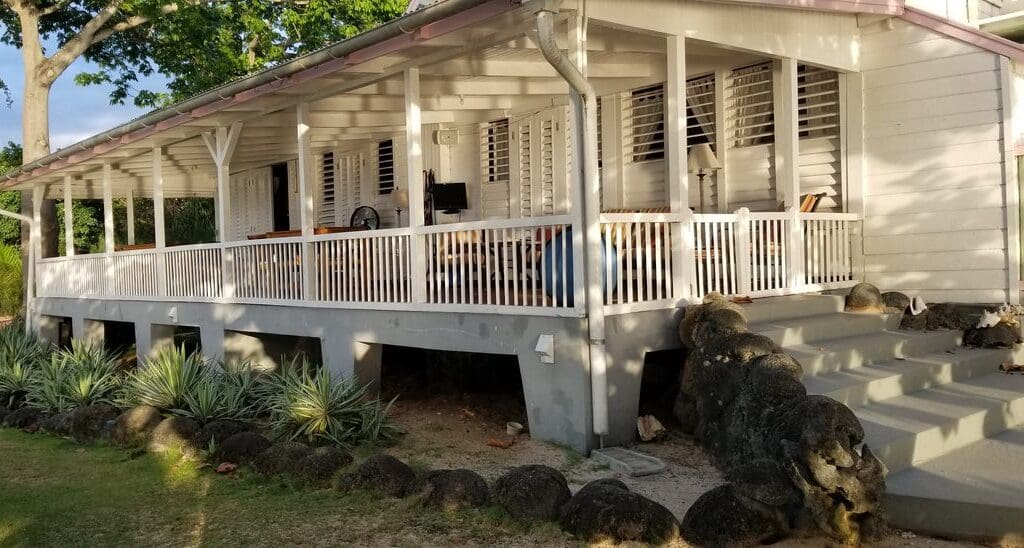 However, an architect friend persuaded him to make the necessary upgrades including downstairs bathrooms that open onto an outdoor shower for rinsing off after swimming, an indoor kitchen and a larger veranda.
But that was more than sixty years ago and it takes a little ingenuity to cut a plank needed to replace one that dry-wood termites had devoured over that time. Restoration is always a work in progress and a testament to skills and determination of our dedicated tradesmen and staff.
Marking the Seasons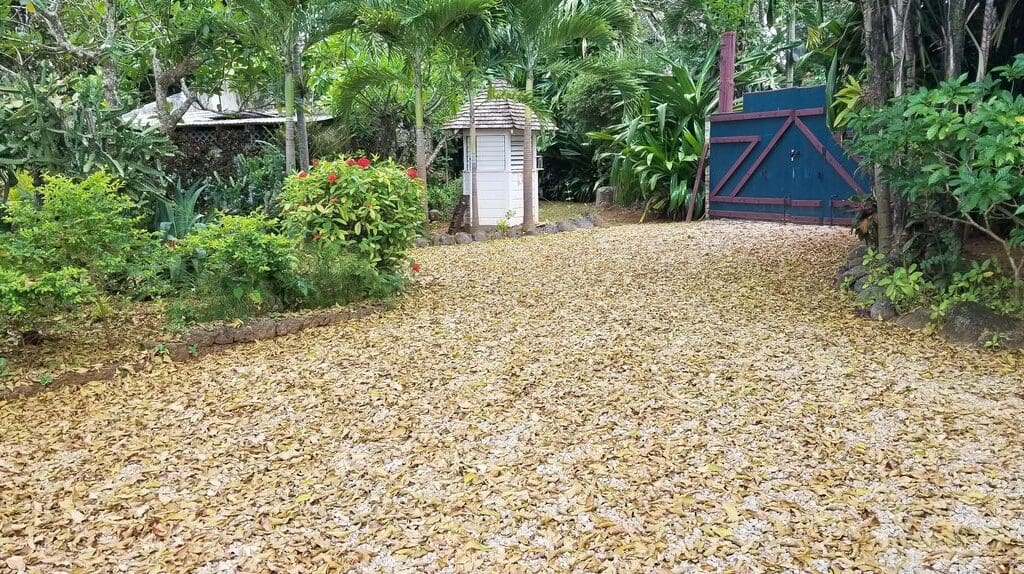 Look closely to see the leaves from the guinep tree covering the driveway gravel in late Spring, not Fall. We are always surprised by the changes that the seasons bring to the property.
The Frangipani are in bloom in May and June that provides a perfect backdrop for weddings. The red crowns of the Poinciana start in the late Spring and last through August. And, the seagrapes in the fall dispel the notion of the uniformity of the seasons which are also punctuated by the different fruits such as mangoes, guinep, star apple, sweet and sour sop, jackfruit and naseberry.
Oh, the salt air
These frigate birds and pelicans adorn a willow tree as it is known in Jamaica but is a casuarina pine, or Australian pine. From their perch they have discovered that our cove is a favorite for small fry.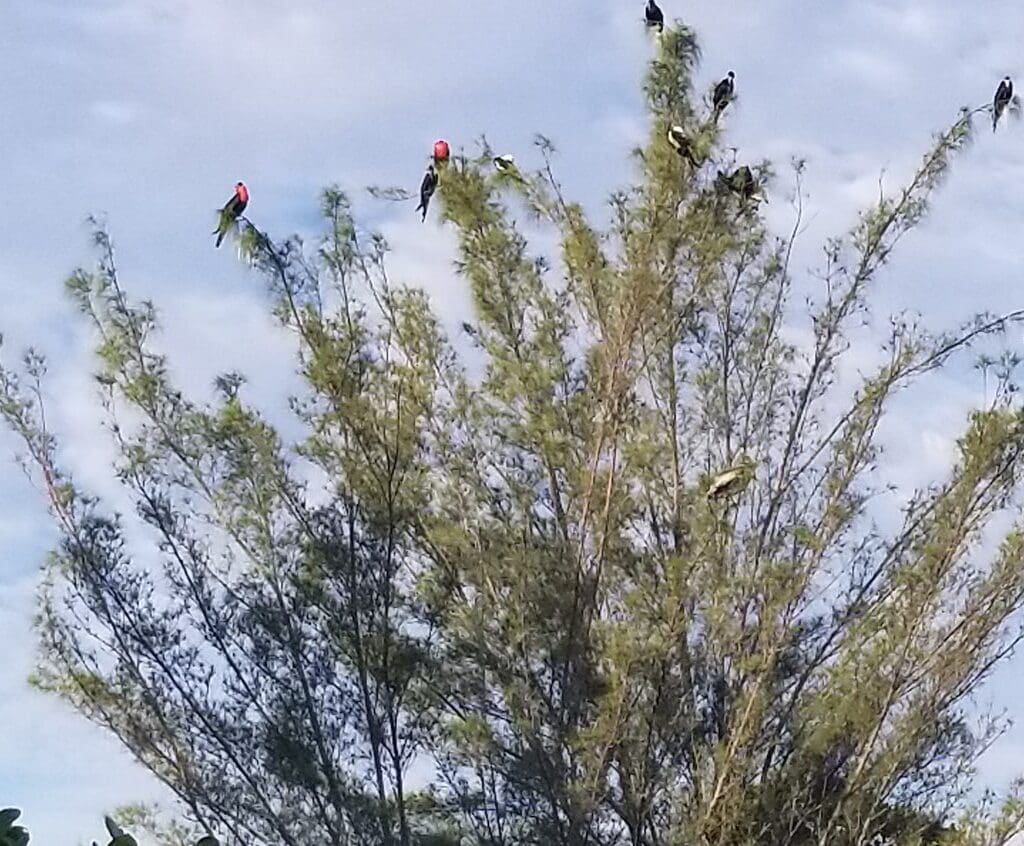 Although the salt air is thought to be salutary, it also causes corrosion of anything metallic so this was another year among many to replace and upgrade the stereo amplifier which is now accessible by Bluetooth and a smart flat screen TV with Prime, Disney, YouTube and Netflix.We gave also upgraded our cable and internet service to fiber optic with screaming fast speeds to keep up with the demands of the internet-of-things, especially when there are 11 guests in the house.
Games People Play
We now have a pickle ball set that has been added to the horseshoes, croquet and bocce ball sets. We also maintain a 5 gallon bucket of balls that are kept under pressure and can be used for practicing serves and for the local tennis pros who are available for lessons and hitting. We also keep the usual board games on hand for those rainy days.
Sheltered from Upheaval
Except for the Viet Nam war, I can not think of any other time in my lifetime where we have experienced so much upheaval: Covid, the war in Ukraine, inflation and climate change. Yet, we all need a break in the action, and while it's not to say that Jamaica is immune to these forces, somehow, Lllantrissant, may remain the last redoubt.
When you are looking for availability in the coming year, you will note that the rates have gone up slightly. This is the first time in almost ten years that we have raised our rates to reflect the increased costs that we face in order to keep the place staffed 24/7 and 365 days a year. Please be reminded that the weekend surcharge will be waived for reservations lasting more than a week. I will adjust the invoice once the reservation has been made. Another important detail to keep in mind is that the tax and gratuity is partially greyed out but is included in the final price. We have also instituted a pre-authorization charge of $1,500.00 as a loss/damage deposit.
We certainly hope that you will include us in your vacation plans for the year ahead.
All the best,
Craig, Cherry and The Staff