Food Service
Whether you are on a special diet or want to excite your palette with authentic Jamaican cuisine like ackee and saltfish, the national dish or jerk chicken with our secret special sauce,  our staff is ready to serve you up a delectable meal that will satisfy your senses.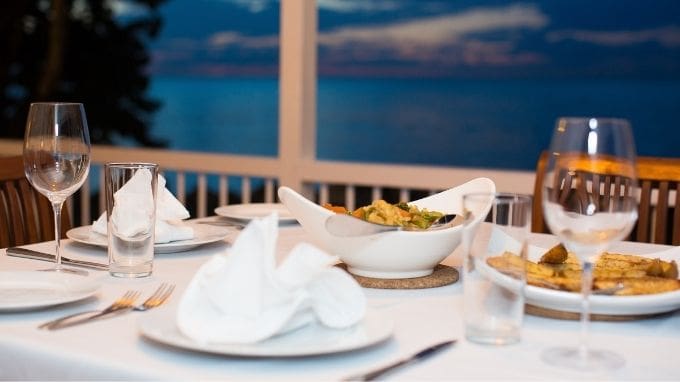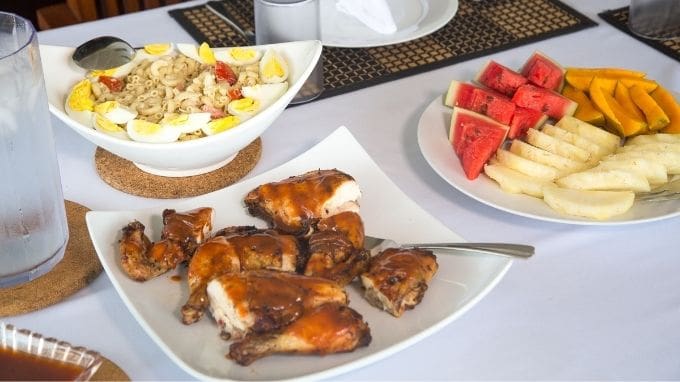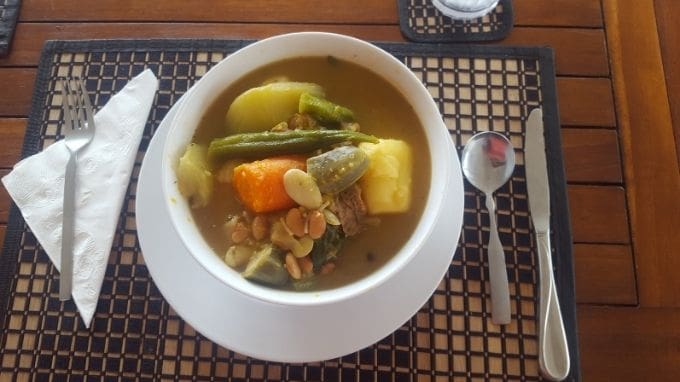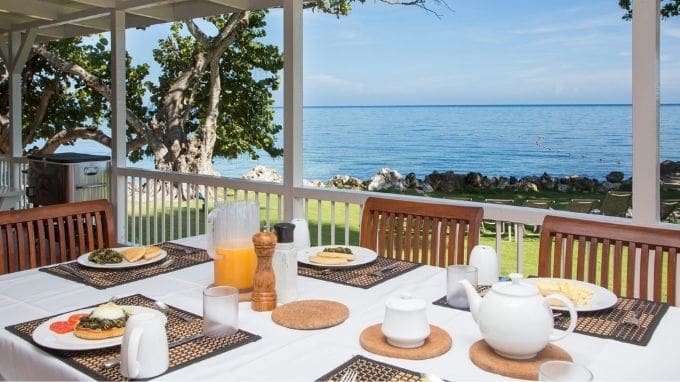 Along with other beverages, we offer a special sparkling water service. With the availability of bottled spring water in 5 gallon bottles that has a dispenser, the staff is now trained to fizz the water using a SodaStream dispenser. You will have a choice of either flat or sparkling water or both that will be served in stoppered bottles with your meals. The cost of the 5 gallon bottled water is US$7.00 delivered as needed and an additional $20.00-40.00 for the CO2 gas depending on the length of stay and the size of the group.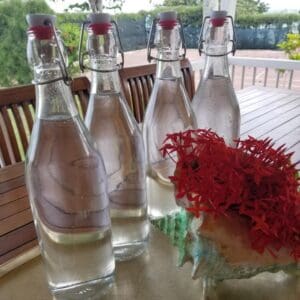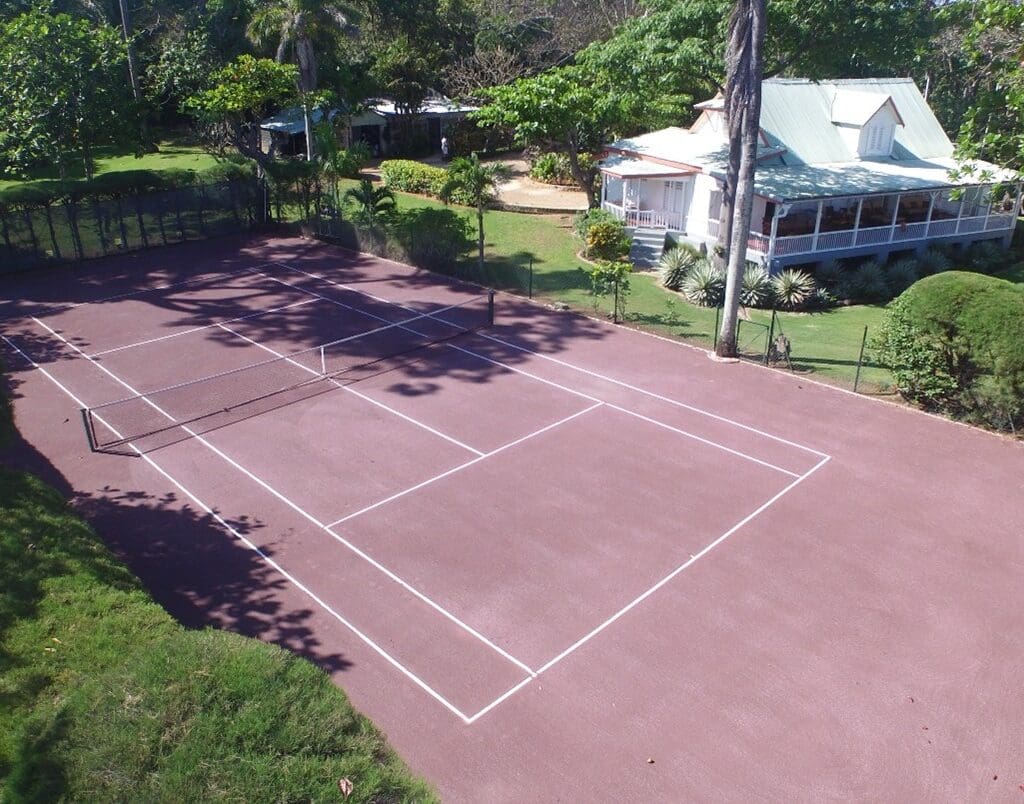 Llantrissant has the only red clay tennis court in Jamaica. The material is produced by the Hakeda Stone Company in Vermont and is imported from the States. It is similar to Hard-Tru in that it is fast-dry. In other words, it takes only about two hours or less to be playable after a heavy rain. It is rolled on a weekly basis and broomed daily after play. Tennis professionals are available on a limited basis for individual or group lessons. We maintain a bucket of balls under pressure for practice and instruction.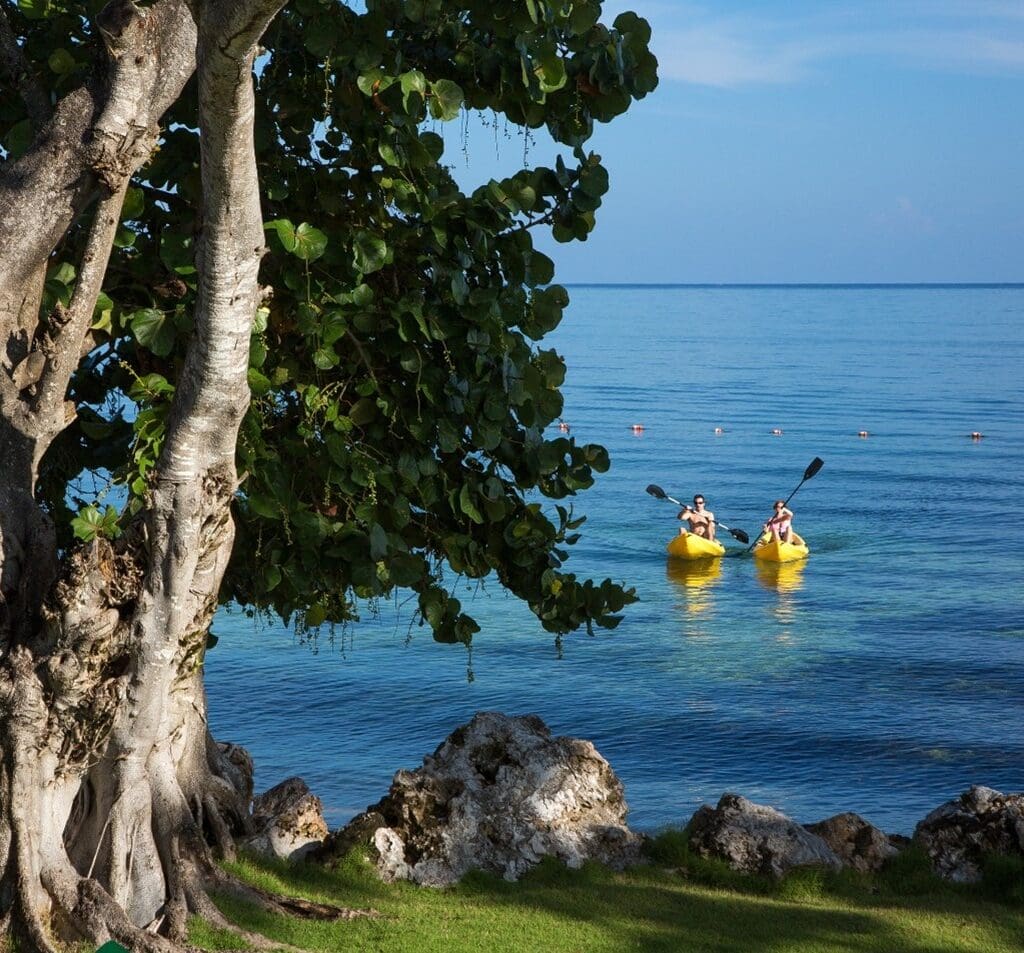 We have four Malibu 2 Sea Kayaks that can be configured for one or two people. There are two anchors with about 50' of rope that can be attached to the bow. We also have life vests for adults and children.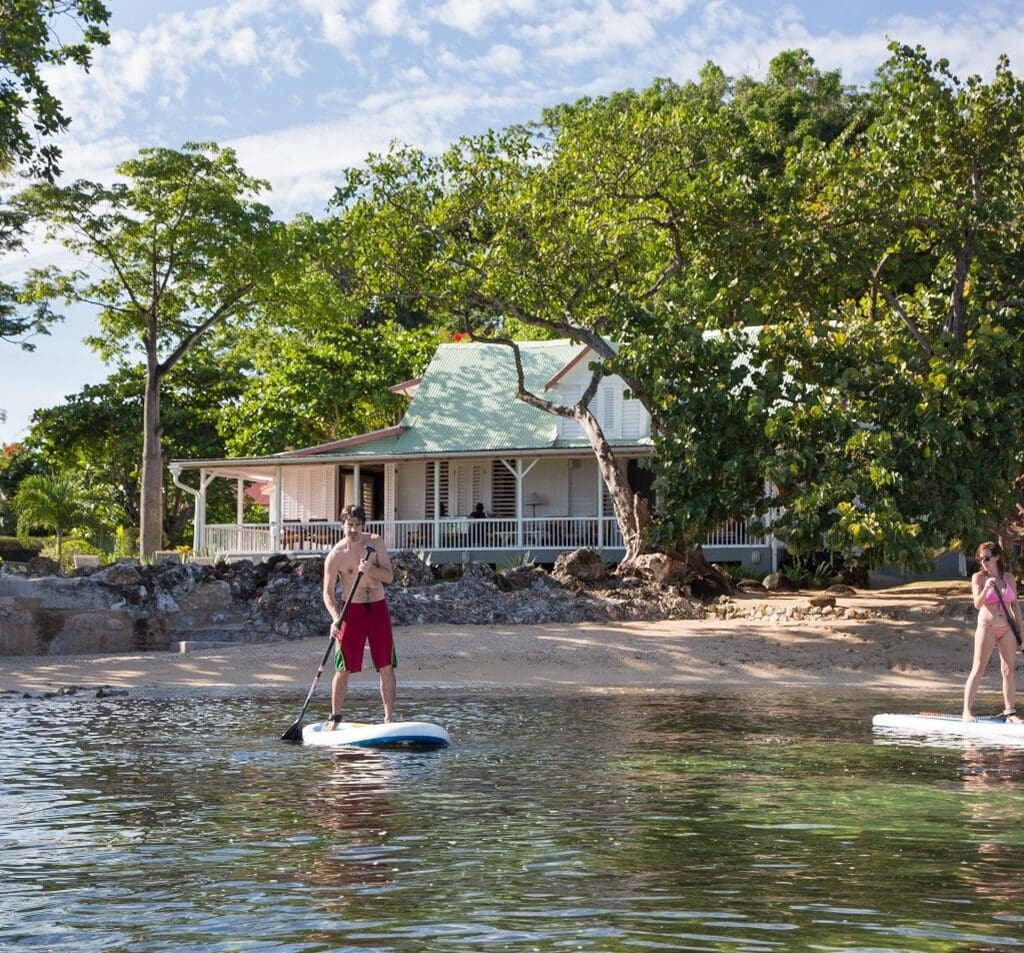 There are two stand up paddle boards. A leash is attached to each one. These are ridged, not inflatable boards as pictured here.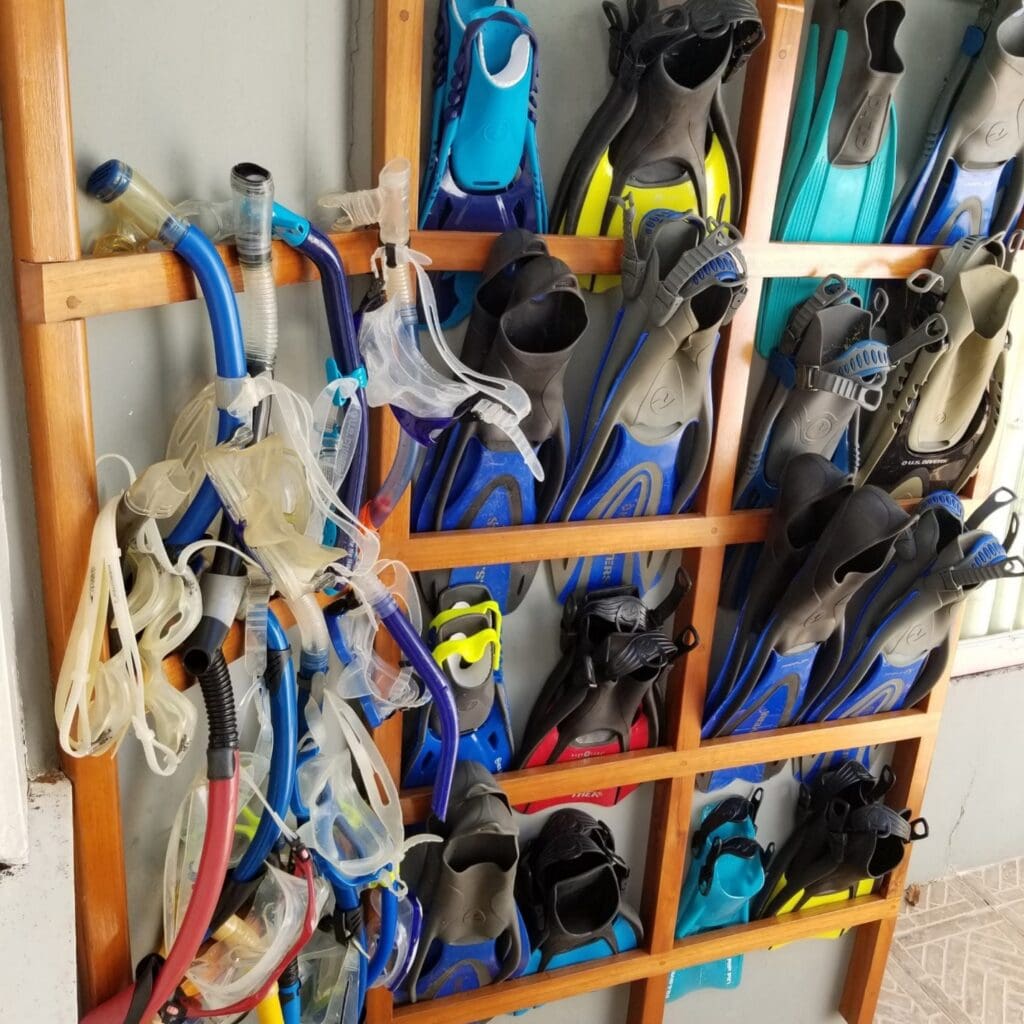 There is a wide selection of snorkeling gear. There are numerous patch reefs in front of the property. To the eastern edge of the property, there are small caves and rock formations to explore.
We have five 1 ½" thick pool floats that are ideal for relaxing just off the beach.
We have four inflatable swimming safety floats for open water swimming. These are only necessary for those who want to swim beyond the marker buoys that demarcate the swimming areas close to the shore. These marker buoys are highly visible and are meant to keep the local fishing and tour boats away from our guests.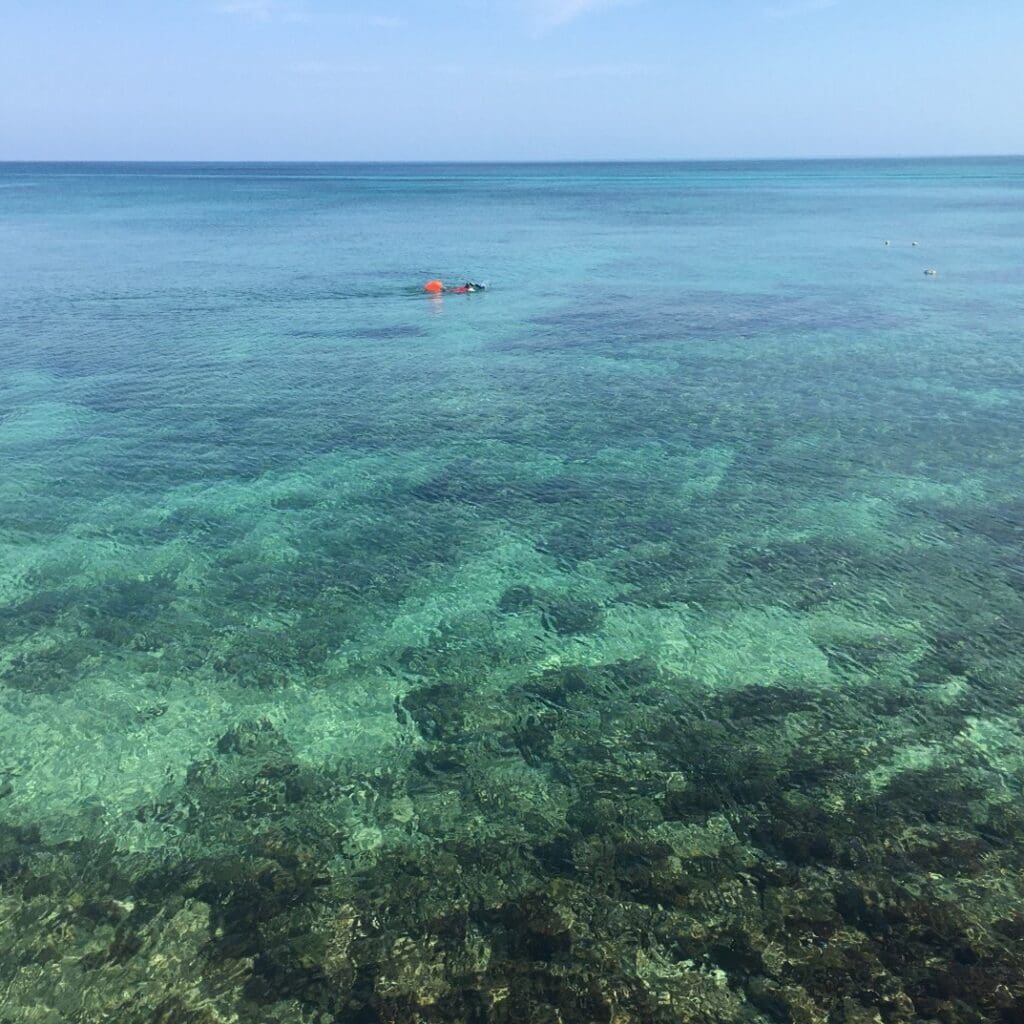 Since liability insurance and insurance for the watersports equipment is not available, it will be necessary for the guests to sign a waiver of liability in the event of injury or loss of the equipment.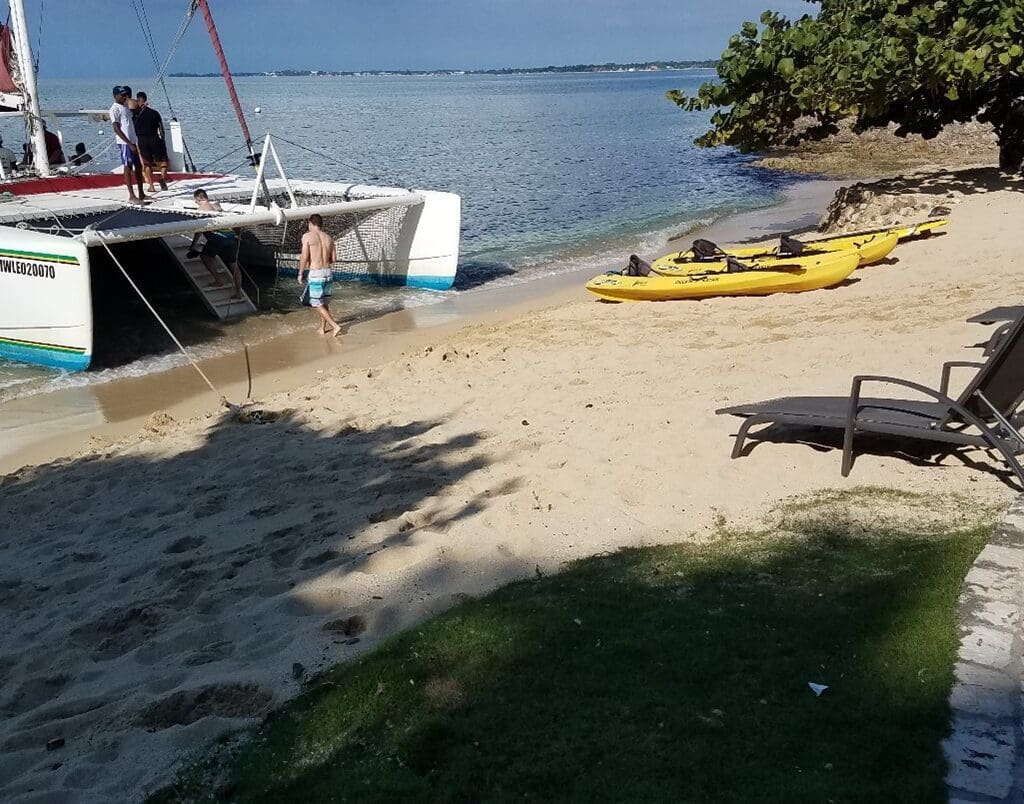 There are many licensed catamarans in Negril that can be hired for special events such as a wedding reception.

There are several licensed masseuses who can come to the property with their massage tables. There is a wide selection of sites on which to set up the table. A couple's massage can also be arranged.
We have a range of free weights, stretch bands, two Bosu Balls, exercise mat, and a monitor with a DVD player to use instructional DVDs.
Pickle Ball, Croquet, Bocci ball and Horseshoes
This equipment is readily available to the guests at no extra cost.
Our drivers can provide transportation for excursions. Popular destinations include: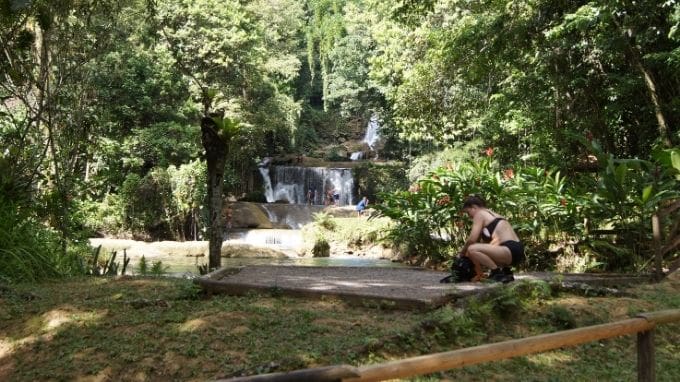 YS Falls on the South Coast that is closer in distance and time than the Dunns River Falls.
The Appleton Estate that produces world class rum is also located on the South Coast.
Black River Morass for river boating where crocodiles are present.
Mandeville, a city on an inland plateau that is more than 2,000' feet above the coastline. It is very windy and so cool in the wintertime, that jackets and sweaters are needed.
We have Monoply, chess and checkers, dominoes. We will have a Backgammon board in the near future.
Cleaning and safety
Daily housekeeping
Disinfected between stays
Hand sanitizer
Linens washed above 60°C/140°F
Mattress and pillow protectors
Outside air ventilation
Ceiling fans
Request no staff entry to room
First aid kit
Staff trained in safety protocol
Temperature checks (staff)
Temperature checks (guests)
Grab rails in showers
Bedside commode
Staffing
Cook
Housekeepers
Groundskeeper
Night watchman
Facilities
24h reception
Free WiFi internet (PW required)
Smart TV (43")
Stereo system (4 speakers)
Bluetooth amplifier
DVD player
Room service
Weddings & private parties
Meet & greet service
Transport service (provided at extra cost)
Fitness equipment
Chaise loungers and beach chairs
Beach umbrellas
Emergency exit lighting
Smoke alarms
Fire extinguishers
Express check in
Express check out
Private beach area
Kitchen
Tennis equipment (limited)
Landscape lighting
Wide entrance to property
Beaches just steps from the house
Public area CCTV
Massage available
Parking
On-site parking
Event parking
Secure parking
Private parking
Business Facilities
Desk working station
Conference & events
FAX machine/printer
Dining
Staff prepared meals
Breakfast, lunch and dinner
Healthy breakfast
Vegetarian options
Vegan options
Gluten-free options
Kosher options
Halal options
Activities and Experiences
Paddle boarding
Snorkeling
Tennis – red clay court
Pickle ball
Croquet
Horseshoes
Bocci ball
Pool floats
Adventure
Beach activities
Family fun
Fitness equipment
Board games, chess, cards
Destination wedding
Events
Watersports