THE VENUE
Our property flanked by two private beaches, spacious lawns under the canopy of giant cotton trees and sea wall with majestic views of the Caribbean sea make for a sublimely romantic outdoor venue for weddings, receptions and special events.
Even the derivation of the name Llantrissant implies romance – llan, a Celtic word for 'yard or place', and trissant, from the Welch word 'trist' or the Middle English word 'tryst', a secret meeting between lovers, or, more contemporaneously, 'a yard where lovers meet'.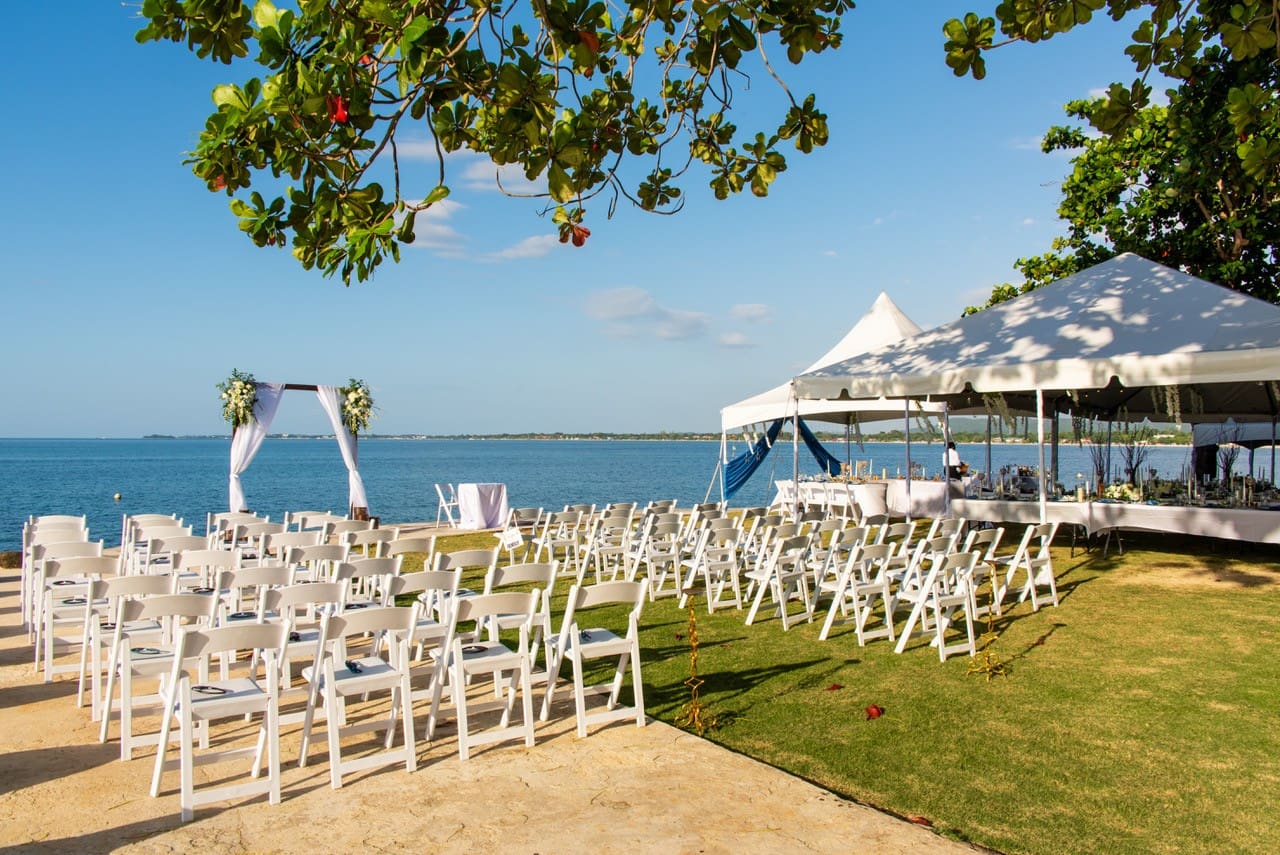 CEREMONY & RECEPTION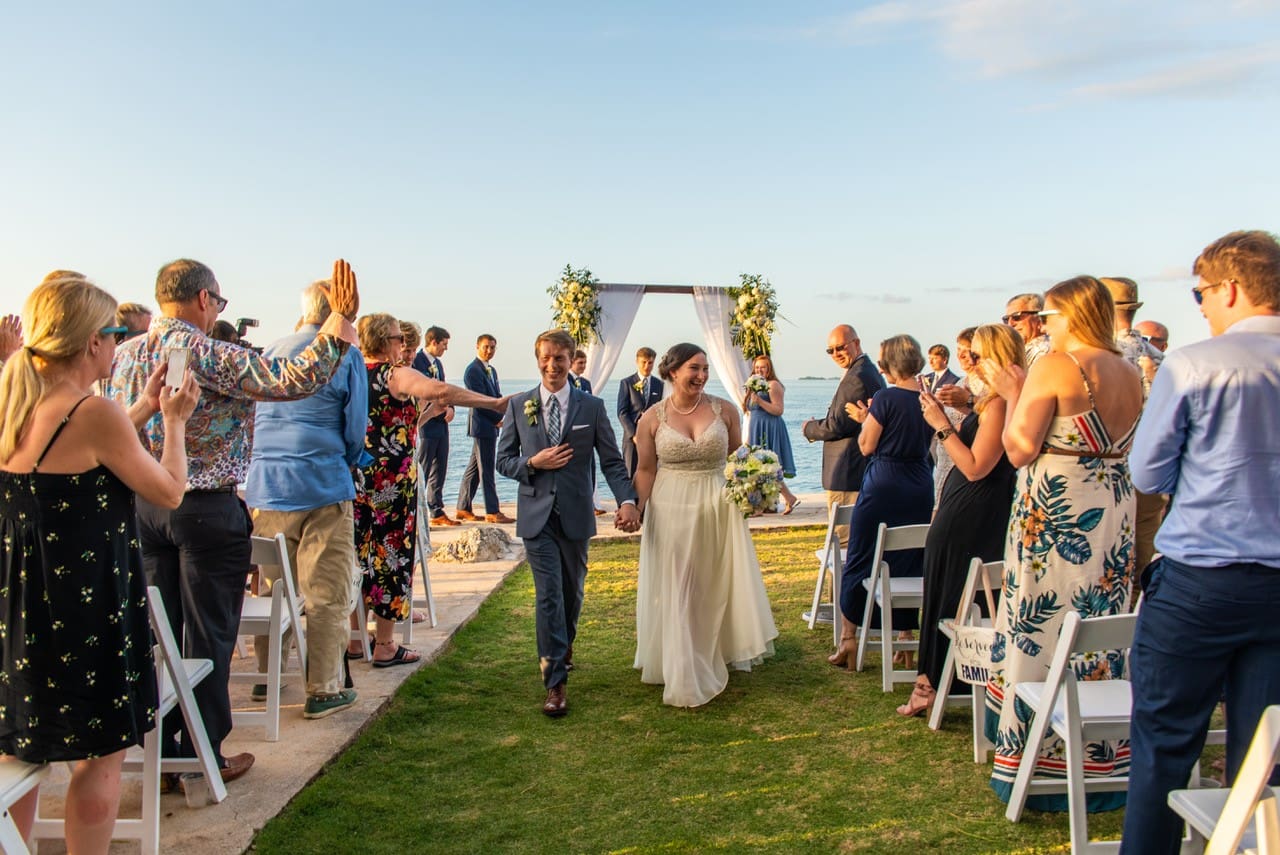 No matter which spot on the property you choose to host your special day — the sea wall, under the canopy covered lawns, or on our red clay tennis court, you and your guests will be treated to breathtaking views of the Caribbean sea.
Depending on the location you can have a marquis or tent set-up that can accommodate up to 200 guests.
Whatever you decide our staff will be on hand to make the necessary arrangements and help you bring to life the set-up and atmosphere you want for your big day
WEDDING PLANNING
There is hardly an event in life which requires more meticulous planning and execution as a wedding and reception. Our staff can provide from the most basic to the most comprehensive wedding planning services starting at $1,000.00 USD excluding the direct costs listed below.
Wedding and Event Services
Our in-house wedding planner will coordinate closely with the bride and groom to offer:
· Catering and beverage service
o Rehearsal Dinner
o Event Dinner
o Post-event Jerk Pan Chicken
· Cake sourcing and selection
Secular or religious officiant
Flowers & Decor Sourcing/selection

Bamboo arch
Table decoration
Entertainment
Tent Rental
Photography and videography
Catering
Our comprehensive catering service is available with waitstaff to provide plated or buffet style dining. Rum and fruit punch, coffee and tea are included with all menus. Server passed hot and cold hors d'oeuvres are offered separately. The plated menu options and buffet pricing are available by clicking on the 'Menu Options' below.
The catering package includes table settings with white or peach table cloths and a full array of full place settings including bullion cups for soup, salad and dinner plates, desert plates, stemware including champagne glasses, cylinder vases, votive candle holders, floating candles and gold or silver chargers. We have ten 72" round and twelve 72" rectangular tables. The chairs are white padded with optional chairback covers and sashes.
The Beverage Service
Our open bar service is available for three hours and is three-tiered that ranges from $35 for the basic to $60 per person for the top-shelf brands. Each additional hour of service will cost $10.00 per person. We also have a corkage fee of US$20 per bottle with bartending service for an additional fee.
FACILITY FEE
The Facility fee for one day includes a bamboo altar, string lighting, two 300-WATT BLUETOOTH speakers with microphones, four 30" standing fans, backup generator, tables and chairs.
· US$1,500.00 for up to 50 guests
· US$2,000.00 for up to 100 guests
· US$2,500.00 for up to 150 guests
· US$3,000.00 for up to 200 guests
A four night minimum stay is required during the peak season and a two night minimum stay is required during the off-season at a rate of $1,350.00 and $1,000.00, respectively.
OUTSIDE WEDDING PLANNERS AND CATERERS
We welcome wedding planners and caterers.
Catering kitchen rental is available for $500.00 FOR OUTSIDE or self-caterers.
For outside caterers add US$10.00 per place setting to the facility fee cost. This includes plates, stemware, vases , votive candle holders, tablecloths, sashes and chair back covers.
10% GCT and 10% gratuity will be added to the total.

MENU OPTIONS


DOWNLOAD BROCHURE