Living Room and Dining Room
The living and dining rooms comprise one large room. The dining room has a dining table that seats six. All the furniture is antique and locally made. There is a glassware cabinet with a supply of wine glasses and dessert bowls. There are kerosene lamps and candles for ambiance and in case of power outages. The living room is furnished with rattan furniture, standing lamps and a standing floor fan. The entertainment center has a 40″ Samsung smart TV with access to your NetFlix, Disney, Amazon Prime and YouTube accounts as well as a choice of 191 channels of cable TV. The stereo amplifier is Blue-tooth ready and is connected to the cable network for music streaming on Stingray Music.
The living room opens up onto a 50′ long veranda that is facing the sea and just steps from the largest of the two beaches. It has a teak dining set with a table that can seat 12. There is a settee with a large couch and two chairs and ottomans at the opposite end of the veranda.  A bar and an ice chest are located between the dining area and the seating area. A standing fan is also stationed midway. There is a limited array of exercise equipment with free weights and elastic tubing, along with two Bosu balls and on-demand padded decking. A wall-mounted monitor is connected to a DVD player that is available along with instructional DVDs. A Pilates reformer can be set up on request. A smaller porch is located on the eastern exposure of the living room with a porch swing.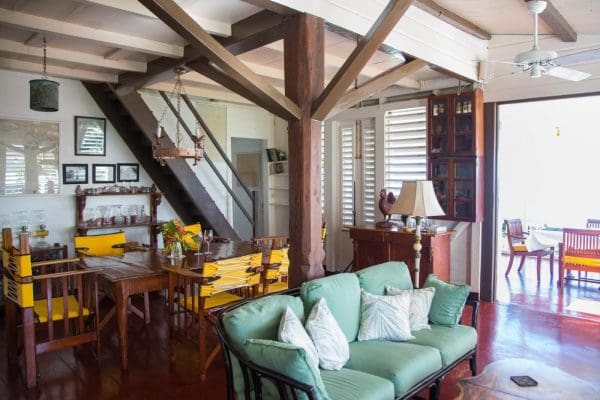 The kitchen is fully equipped with a six-burner restaurant oven and range. A full set of stainless steel Calphalon pots and pans along with cast iron frying pans and a wok provides our staff with an excellent choice of equipment. There is a  27 cubic foot refrigerator, microwave, a Cuisinart food processor and coffee/spice grinder, four slice toaster, blender and a commercial-grade orange juicer. Coffee lovers will find one and two-cup Italian stovetop espresso coffee makers, a Bodum French press, a DeLonghi espresso machine and a Mr. Coffee coffee maker. We have recently installed a reverse osmosis water filtration system and the water can be carbonated with a CO2 dispenser similar to Soda Stream. The laundry facilities are restricted to the staff for the linens and towels but they can do personal laundry for a nominal fee.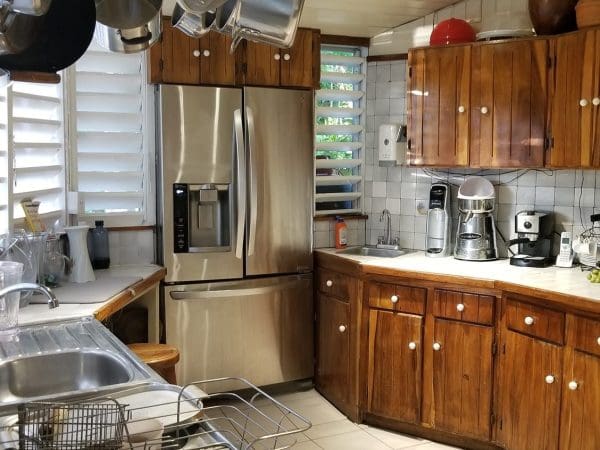 Located on the ground level of the main house both bedrooms have their own private full bathrooms, each with a door opening to a shared outdoor shower for rinsing off after coming from the beach. The Seaside Master bedroom opens directly onto the 50-foot veranda and the louvered windows provide views and sounds of the Caribbean Sea and one of the two private beaches.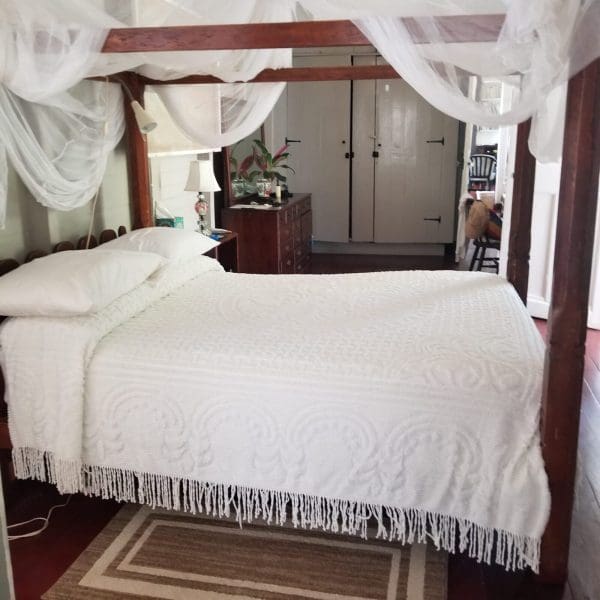 The upstairs bedrooms are en suite that share a bathroom overlooking the sea.
The largest partition  has a king sized bed and  has a private entrance down a staircase leading to the lawn and beach.
The center partition has a nook with a twin bed and a staircase leading down to the dining room and living area below. On the eastern side of the second level is a third partition that has two twin beds overlooking the tennis court and Seven-Mile Beach.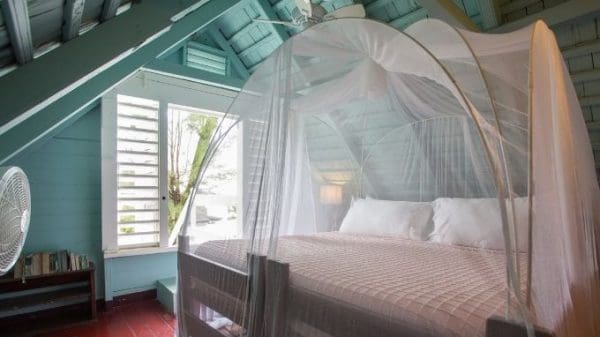 A cottage is immediately adjacent to the main house and serves as a 5th bedroom. It has its own bathroom with a sunken shower and its own patio that is facing the beach. It has a Queen size bed, wardrobe and hotel safe.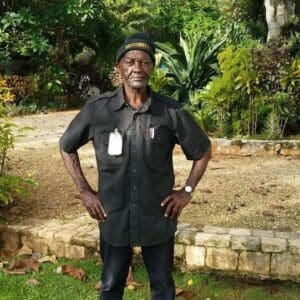 Here at Llantrissant the safety of our guests is our main priority. In addition to full compliance with standard Government Covid-19 Health & Safety Protocols for tourism entities, we have taken steps to implement additional measures to ensure our guests are doubly safe and can enjoy a well deserved worry-free vacation.
Please click to read the full compliance letter issued by the Compliance Authority.
We continue work with the proper Government agencies to update standards as they are recommended and to revise internal protocols.
Please check your own country's government websites for updates regarding travel to Jamaica.
Craig and Cheryl Travis are the owners of Llantrissant.  Craig is originally from Chicago and Cheryl was born and raised in Negril. They met on the West End in 1979 and got married on the property three years later. They have raised three children who have careers in the arts and education.   
They both cherish the history of the house and property and have been dedicated to its restoration, preservation and decor.  Cheryl is an avid gardener and loves to cook which is reflected in the high standards for both local and international cuisine.